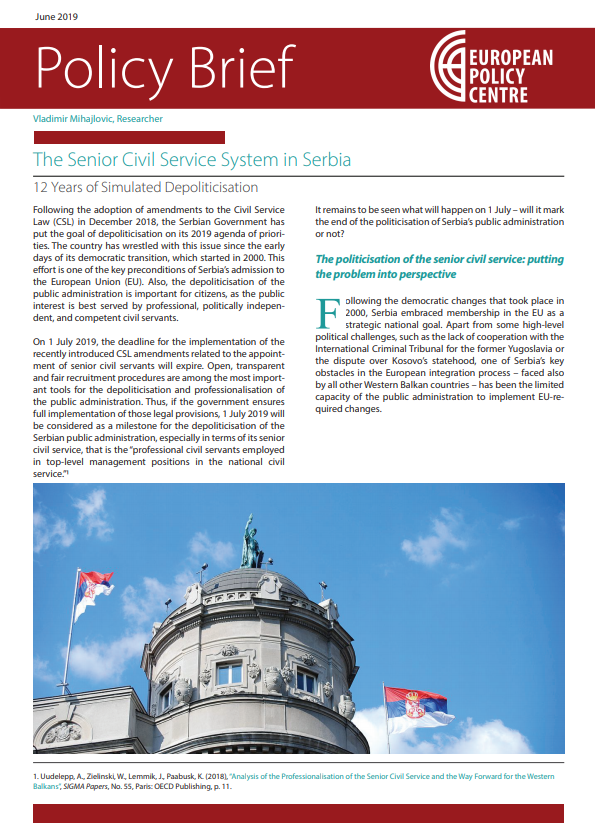 Download PDF
The country has wrestled with this issue since the early days of its democratic transition, which started in 2000. This effort is one of the key preconditions of Serbia's admission to the European Union (EU). Also, the depoliticisation of the public administration is important for citizens, as the public interest is best served by professional, politically independent, and competent civil servants.
Following the adoption of amendments to the Civil Service Law (CSL) in December 2018, the Serbian Government has put the goal of depoliticisation on its 2019 agenda of priorities. On 1 July 2019, the deadline for the implementation of the recently introduced CSL amendments related to the appointment of senior civil servants will expire. Open, transparent and fair recruitment procedures are among the most important tools for the depoliticisation and professionalisation of the public administration. Thus, if the government ensures full implementation of those legal provisions, 1 July 2019 will be considered as a milestone for the depoliticisation of the Serbian public administration, especially in terms of its senior civil service.
It remains to be seen what will happen on 1 July – will it mark the end of the politicisation of Serbia's public administration or not?