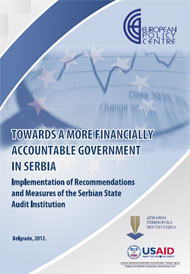 Download PDF
It starts from a legal-institutional analysis, followed by the analysis of progress in this area in the context of Serbia's EU integration, to the state of implementation of SAI's recommendations and measures and the perceptions of the system by audited institutions. The Analysis also presents examples of good practice in cooperation between civil society and the public sector, with particular emphasis on external audit. Through this comprehensive analysis a number of conclusions have been reached, as well as a total of 21 recommendation for improvement of the external audit system in Serbia from the aspect of:
legal and institutional framework for external audit,
integrating external audit with other reform processes,
improvement of the follow-up system for SAI's work,
role of civil society organisations in the external audit system.